Description
AB DOER TWIST
Millions of people from around the world experienced the original AB-DOER®, but now it's time for a quantum leap forward– the AB DOER TWIST™, the 360-degree approach to total-body fitness.To get in great shape you have to do muscle toning and aerobic activity. With the AB DOER TWIST™ you do muscle toning and aerobic training at the same time – and from, a seated position,
In just few minutes a day, you'll experience a fun and exhilarating total-body workout. The core support column and contoured arm bars support you in the perfect position to achieve maximum results. Only the AB-DOER®'s patented torsion-flex technology fires up muscles that other exercises simply can't reach– your lower abs, upper abs, obliques, even your back.
You're aligned, you're stable, and you're being supported. This lets you use your muscles much more effectively, with less stress and less strain – plus the foam roller gives you a revitalizing, therapeutic massage every time.
What's Included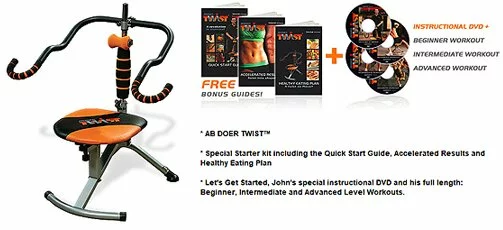 When you order the AB DOER TWIST™, you will also receive many Free Gifts:
Quick Start Guide for Accelerated Results, Healthy Eating Plan filled with delicious recipes to help shed the pound & "Let's get started DVD", John Abdo's special instructional routine
BONUS Items:
Motivational Tracking Package, featuring a state-of-the-art body mass analyzer, Advanced, Multifunction Computer Technology that scans your entire body to calculating your weight, body fat, and muscle mass, Measuring Tape to track the inches you're losing, and Motivational Workout Calendar to chart your progress.
Only logged in customers who have purchased this product may leave a review.